How to Use Our Book Sales Calculator?
Using our book sales calculator is very easy! Just find a book's bestseller rank on Amazon, and copy-paste it into the bestseller's rank field. Then select the relevant marketplace, make sure that the appropriate format is selected (kindle or print), and hit the "Estimate" button. And voila, just like that the calculator will show you how many sales this book is generating on Amazon.
How are we able to estimate a book's sales rate?
The sales figures come from our proprietary calculation engine. We have analyzed book sales data of numerous books in several marketplaces to create reliable estimates based on large sets of real data.
How to Find a Book's Best Sellers Rank?
To find a book's Bestseller's Rank, open the book's page, and scroll down to the "Product Details" section. There you will see the Best Sellers Rank.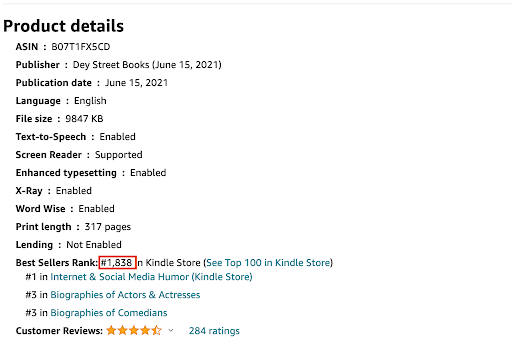 What is Amazon Best Sellers Rank and How Does It Work?
Amazon Best Sellers Rank (BSR) is a number that any product on Amazon is given once it has made at least one sale. All products are ranked based on how many units of it have been sold in the very recent history. 
The lower a book's BSR number, the more copies it sells every day. And vice versa.
For example, a book with BSR #2000 will be selling dozens of copies a day, whereas a book ranking at #120,000 will only be selling around 1 copy per day. 
A mistake that new self-publishers make is confusing Best Sellers Rank with a book's rank within a sub-category.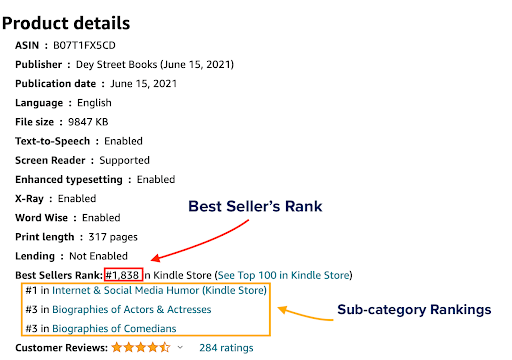 Amazon ranks products within separate categories, not against all products. Books (print books), Kindle eBooks, and Audiobooks all are ranked separately. 
Get access to the most powerful analytics tools for Amazon self-publishers.
Access historical BSR and sales data for any book on Amazon and Audible

Easily find the most in-demand niches

Quickly discover the most searched keywords 

Find the best categories at the click of a button

Track the performance of any book on Amazon

..and much more